Cellular Terminal: MLB-G4202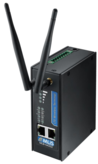 MLB-G4202 is a LTE terminal designed for 10/100M Ethernet communication over TCP/IP via any
readily available 3G/4G carrier networks. Overall, it is more cost and time effective to establish
communications between Machine to Machine over diverse locations.
MLB-G4202 terminal uses RJ45 connector as communication interface and the DC jack as power input.
The LEDs are used to indicate the status of the terminal.
MLB-G4202 terminal can be used to provide wireless communications to link with many applications,
including IP surveillance, vending, security and alarm monitoring, e-maintenance and other telemetry
applications.



Schmidt & Co., (Hong Kong) Limited, a subsidiary of Schmidt Electronics Group, was re-established in 1953 and has since built an enviable reputation in IT and electronic industries in the Asia Pacific region. Today, Schmidt has become a leading system integrator and proprietary product provider offering innovative yet competent Automatic Identification & Data Capture (AIDC), Mobile as well as Information Management solutions.

Schmidt makes life simple by bringing together barcoding, RFID, voice recognition, biometrics technologies, mobile computing and wireless communications, to facilitate the creation of real-time information infrastructure that helps customers optimize business processes, drive growth and improve their work and life efficiencies.

Headquartered in Hong Kong, we currently operate 15 regional offices across Asia, including key cities in China, Korea, Malaysia, Philippines, Singapore, Taiwan and Thailand, giving our customers the benefits of strong local presence with the promised regional support and consistently high quality of service.



MLB-G4202: Ethernet to LTE Terminal