Malaysia-Japan Industry 4.0 Summit 2023: Accelerating Transformation Towards Smart Manufacturing
2023/03/20
Federation of Malaysian Manufacturers (FMM) co-organised the Malaysia-Japan Industry 4.0 Summit 2023 with JETRO KL on Thursday, March 2, 2023 at Royale Chulan Damansara, Petaling Jaya with the theme "Accelerating Transformation Towards Smart Manufacturing". FMM is honoured to have H.E Takahashi Katsuhiko, Ambassador of Japan to Malaysia, to deliver the Keynote Address. More than 400 participants attended the event to learn, share ideas and gain a better understanding of the Industry 4.0 journey that is rapidly transforming the manufacturing industry in Malaysia and Japan.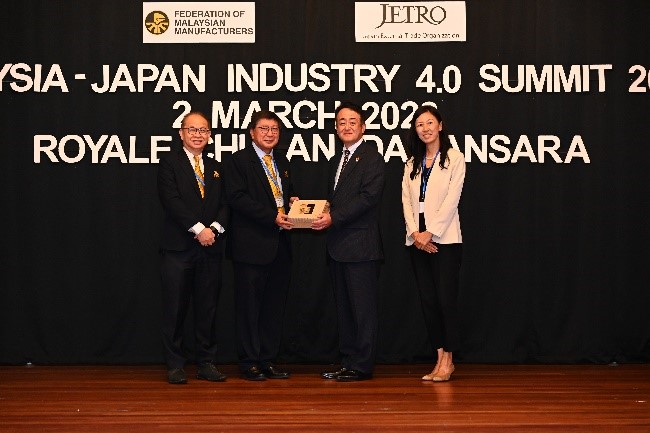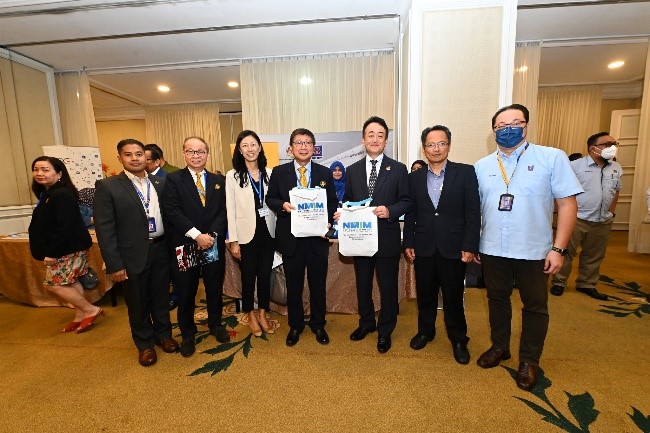 The manufacturing sector of Malaysia is an essential part of its economic system. Malaysia holds a remarkable position in the global market through the exports of manufacturing products. However, this sector faces challenges such as organizational capability to innovate due to rapid technological and business environment changes in line with Industry 4.0. These challenges may prevent manufacturing firms from embracing Industry 4.0 and thriving in their businesses.
In response to the Fourth Industrial Revolution (4IR), the Industry4WRD: National Policy on Industry 4.0 was launched on 31 October 2018 to drive digital transformation of the manufacturing and related services sectors in Malaysia. The Policy's framework is as follows: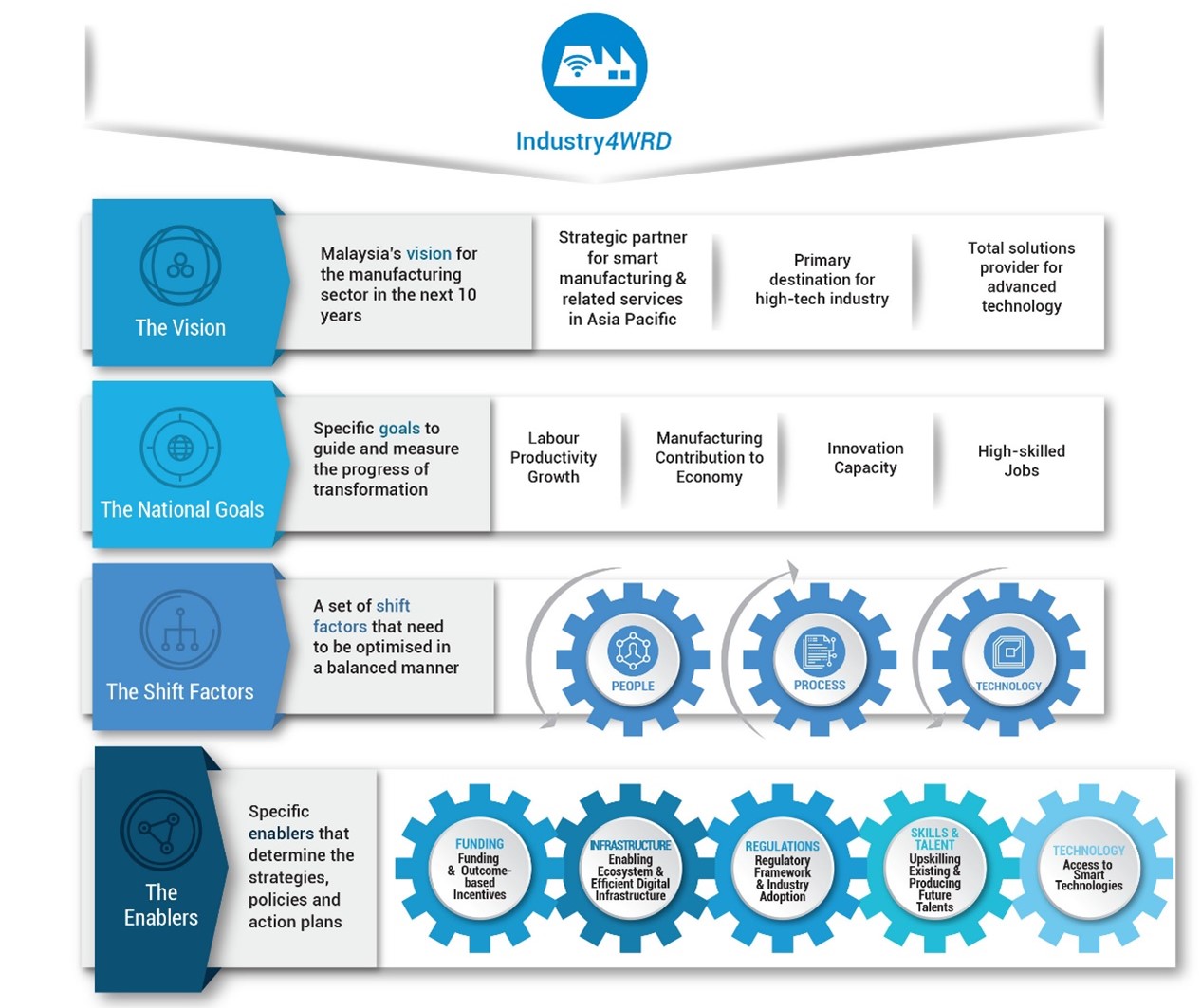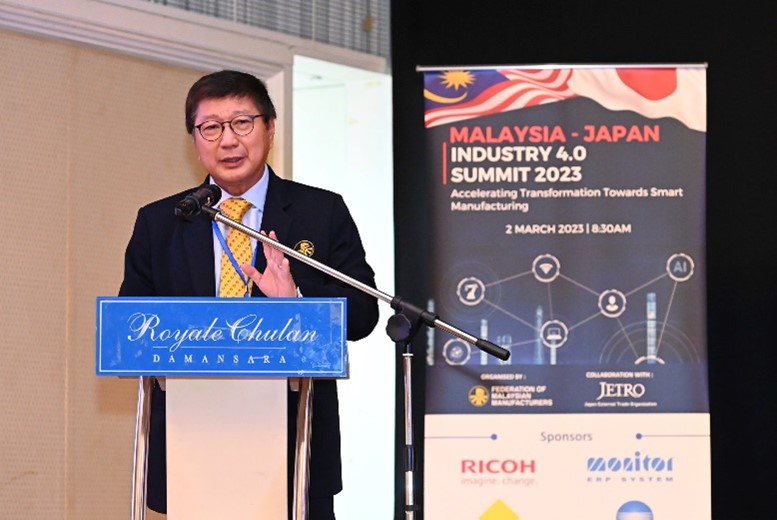 Malaysia and Japan have been urged to explore new areas of cooperation on environment, sustainability and governance (ESG) as both nations commemorate the 40th anniversary of the Look East Policy (LEP) in 2022. Over the past four decades, cooperation between Malaysia and Japan, which is now centred on sectors related to technological revolution, had changed the industrial and economic landscape in the region. Japan was the fourth largest and one of the main sources of foreign investment for Malaysia. Japan's expertise in artificial intelligence (AI), robotic, autonomous system and Internet of Things (IoT) could strengthen and ensure sustainability of the LEP for many years in the future.
Japanese foreign direct investment (FDI) to Malaysia has been flat in recent times but the Japanese companies here are confident that there will be a surge with Industry 4.0. Japanese manufacturers were among the leading players in growth of the manufacturing sector in Malaysia thanks to incentives and tax breaks. Their proposed "Hybrid IoT Manufacturing" concept will be the first step to lift the Malaysian manufacturing sector to the level desired by the government. Hybrid IoT involves SIP (Sensory Inspection Process depends on people's senses) and MES (Manufacturing Execution System) are the primary areas that are important investment areas to improve quality.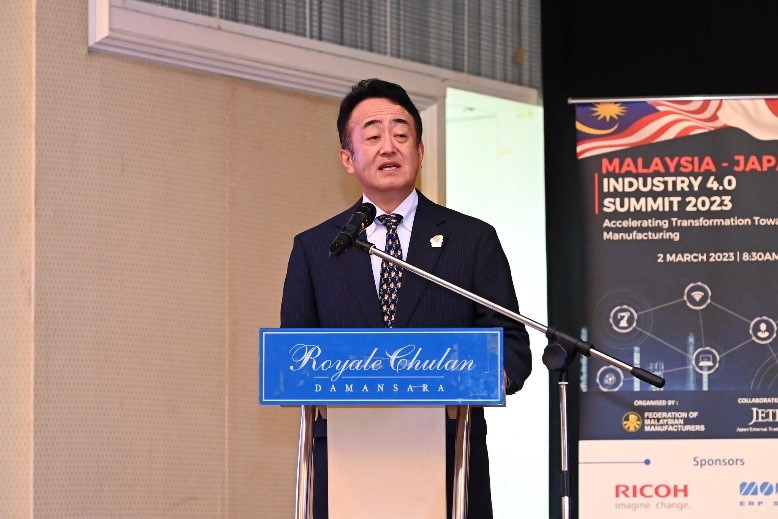 Malaysian government was keen to listen to the manufacturing players' views on how to make Malaysia the preferred investment destination in the region. The manufacturers acknowledge the government's commitment in providing the ecosystem that will encourage and support more companies to innovate and adopt Industry 4.0 in their business processes. To the Japanese companies, Malaysia remains far ahead of other neighbouring countries in terms of its attributes - abundant young population with good command of English, R&D specialised personal per capita available, and good social infrastructure.
Forum and panel discussions
JETRO Forum: Malaysia-Japan Collaboration on Smart Manufacturing
This session explores challenges and potential of Industry 4.0. Company CEOs share about benefits of industrial transformation and discuss potential business model creation by leveraging on enabling technologies:
Panel members:
Yokogawa Malaysia Sdn Bhd
Konica Minolta Business Innovation Center Asia Pacific
Mitsubishi Electric Sales Malaysia Sdn Bhd
Fujitsu (Malaysia) Sdn Bhd
Panel Discussion I: Journey of Digital Transformation
SMEs and mid-tier companies will share their experience on their respective journeys of transformation towards Industry 4.0 and benefits they have enjoyed from the transformation.
Panel members:
Mr Gary Gan, Founder & MD, Hexa Food Sdn Bhd
Mr. Joji Tokunaga Regional MD, RICOH Asia Pacific & Latin America
Mr Markus Schillo, Fraba Sdn Bhd
Daikin Malaysia Sdn Bhd
Panel Discussion II: Performance Improvement through I4.0 Technology Solutions
Many I4.0 technology solution providers have supported SMEs in addressing challenges in their respective Industry 4.0 transformation. The session will feature some Malaysian and Japanese solutions providers, together with their respective clients, to share insights into their transformation projects and outcomes.
Panel members:
Galactic Engineering
Hitachi Sunway Information Systems Sdn Bhd
Tateyama Auto Machine Co. (M) Sdn Bhd
Itawani Malaysia Sdn Bhd (Yaskawa Electric MOTOMAN System)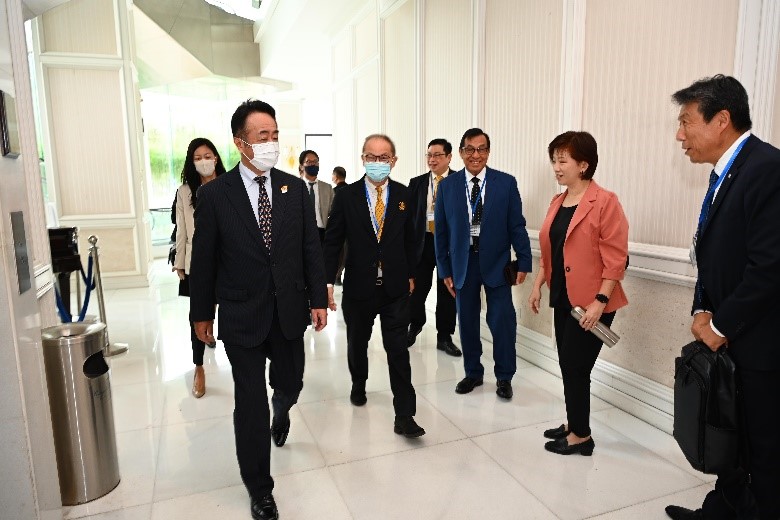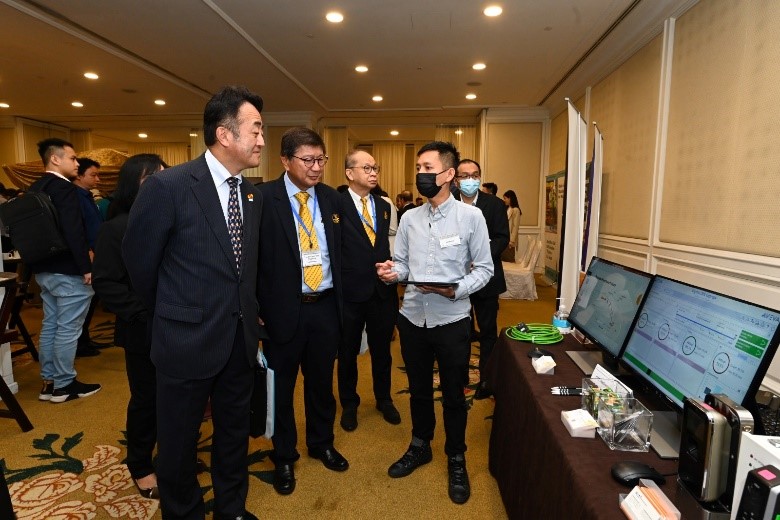 « Case Study: Small Scale IoT – Monitoring Temperature & Humidity