【Cloud Service】Simplifying Operation Processes - SOP Creation and Management Software「Teachme Biz」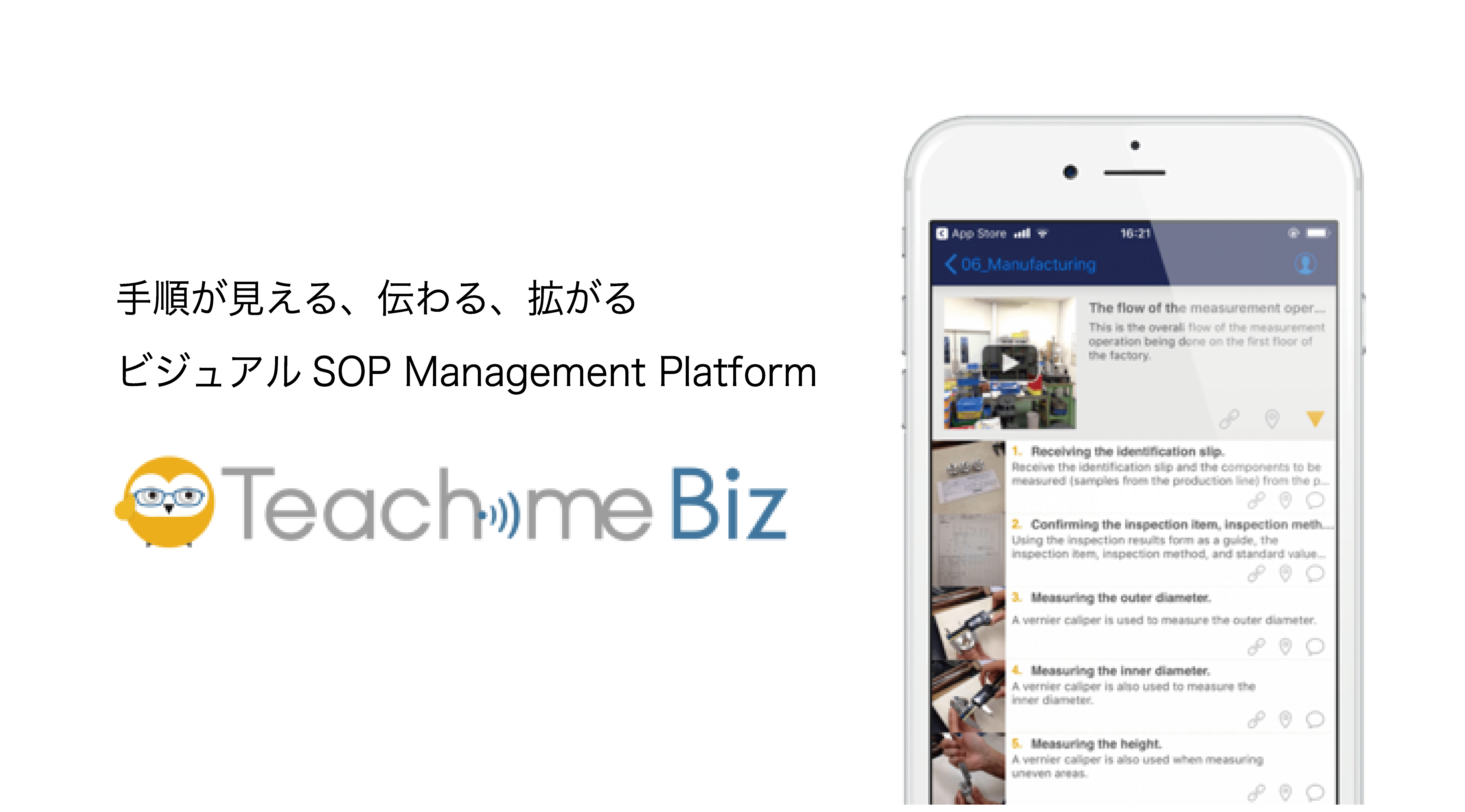 Do these problems exist?
Full-Text Manuals

 Nobody reads these!

---

Group Training

 Forgotten once it's over

---

OJT

 Different statements from everyone

Teachme Biz is a
A quick, fast and easy to use platform to make detailed manuals/SOP with images and videos, that's can also be used to aid employee management.
[1] Creation

Multi-device support at your fingertips

[3] Browsing/Use

Easy to understand and browse with quality images and videos
Teachme Biz Case Studies and Results

●Maintaining the level of operational quality

【Case】 Used as a medium to guide part-timers for an expanding chain company with multiple outlets
・Reduction in cost and training time of new staff

●Reduction of inquiry within the company

【Case】 Easing the number of inquiries towards the administration staff in the case of a system failure, faulty equipment and confusion in operational guidelines.


●Reducing effort needed to educate New
/ Probational
staff
【Case】 Reducing the workload needed by current employees when educating fresh faces.

・

Effective even after probabational period
Example of Successful Application in Malaysia
Used by the famous sushi chain, Sushi King based in Malaysia.

| | |
| --- | --- |
| Company Name | Studist Co. Ltd |
| Mission | Further simplying, what needs to be conveyed |
| Vision | Establishing a intellectually vigorous company with the joy of knowledge, design and making of wonderful products |
| Address | 東京都千代田区神田錦町1-6 住友商事錦町ビル9F |
| Representative | 代表取締役 鈴木 悟史 |
| 創業 | 2010年3月(第10期目) |
| Employee Count | 99名(内定者含む) |
| Capital | 6億7,474万円   株主:創業メンバー、日本ベンチャーキャピタル、三菱UFJキャピタル、セールスフォースベンチャーズ、 リクルートホールディングス、三井住友海上キャピタル、横浜キャピタル、ちばぎんキャピタル DNX Ventures(旧ドレイパーネクサス) |
| Sector | Design and distribution of B-to-B cloud-based services |
CloudHub Community
Use the following services by registerting an account.(Free Registration)
---
Download Resources

Download Manuals, Readmes, Terms of Used for own use。

---

Inquiry

Further explanation on this product will be provided。(Only in Kuala Lumpur currently)

---